Are you looking for Flexible Workspace in Frankfurt?
Here are some Key Facts about Frankfurt
Frankfurt am Mein is and the 5th largest city in Germany, and the largest in the state of Hesse.
It has a population of just below three quarters of a million, and the larger urban area – Frankfurt Rhein-Mein – has a population of 2.2 million.
The Institut Géographique National (IGN) has been calculating the changing location of what is the geographical centre of the European Union (EU) since the mid-1980s. The precise location has changed over the years with the inclusion of various countries into the block.  On July 1st 2013, Croatia joined the EU so the geographic centre entered North-West Bavaria in Westerngrund – just 40 kilometres east of Frankfurt.  Incidentally, Frankfurt is also home to the headquarters of the European Central Bank (ECB).
As the seat of the ECB, and the financial capital of Germany, it is a major financial centre and has earned the nicknames, 'Bankfurt' and 'Mainhatten'.
The city is currently home to more than 400 international banks and financial institutions, and it is estimated that that some 55,000 people are employed in the financial services industry there.
In terms of office space to rent in Frankfurt, there is a wide variety of high-quality grade-A space. The majority of modern flexible workspace is located in Downtown where the skyline is dominated by skyscrapers.  Downtown comprises of the financial district, Bankenviertel – near the city centre, the area that is home to the trade fair premises – Europaviertel, and Mainzer Landstrasse – between Opernplatz and Platz der Republik.
The skyscrapers and modern office buildings are home to major banking and finance institutions including; Commerzbank, UBS, DZ Bank, Landesbank, Goldman Sachs, Deutsche Bank and the aforementioned European Central Bank.
We have found a good selection of Serviced Offices In Frankfurt with The Office Providers here for our readers to review.
Although most of the office space is concentrated around the Downtown district, there are alternative options across the city in areas such as Berger Strasse and Hanauer Landstrasse, and slightly further afield at Eschborn.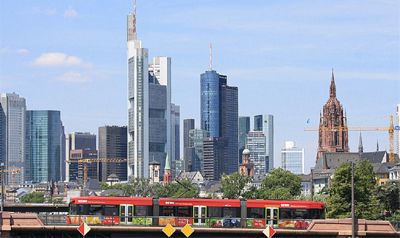 If you are looking to rent office space within one of the largest financial centres of Europe – awarded a rating of 689 by the Global Financial Centres Index in March 2016 – then an office in Frankfurt could be the best choice. That said, the Frankfurt office space market caters for a truly eclectic range of occupiers.
We will be reviewing all flexible workspace options including; serviced offices, managed offices, executive suites, and co-working space option across the various areas of Frankfurt. We will also be researching virtual office and mailbox options for businesses that that don't require the physical presence in Frankfurt but would benefit from the association with the city.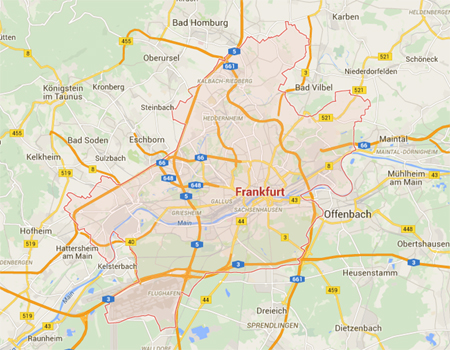 All review prices are a basic guide and can change – Ref-TP20Pos