Are you looking for Office Space In Dublin?
Here are some Key Facts about Dublin
Dublin is the largest and capital city of the Republic of Ireland (Eire) and sits at the mouth of the River Liffey, overlooking the Irish Sea and facing the coast of the United Kingdom some 70 miles away.
The city has an urban area population of approximately 1.2 million people and the population of the Greater Dublin Area, was approximately 1.8 million at the 2011 Census.
The Republic of Ireland enjoys a strategic location on one of the major sea and air routes between Europe and the Americas. It was, in fact, a welcome emergency landing zone for those attempting to cross the Atlantic by air during the late 1920s, as it just short of the target landing points of the UK and France.
Today, Dublin provides an attractive business environment and is the only English-speaking capital city within the European Union (EU). With a corporate tax rate of 12.5% and with R&D Credits of 25%, the city has already attracted many major players including; Facebook, Google, Accenture, Pfizer and Citibank. In fact, following the United Kingdom's vote to leave the EU (in June 2016), there are many businesses, some of which employing thousands of people, that are looking to relocate from the UK to a Eurozone city. And, with the incentives on offer, Dublin is finding itself on the top of the list of alternative European locations.
We found a good selection to review at The Office Providers here
There is office space located throughout the city in various quarters, there is traditional Georgian accommodation in D2 such as that on Harcourt Street or Fitzwilliam Square, there is funky loft space in D1 on O'Connell Street, and there is also the impressive Dublin Docklands, also within D2, that is home to modern grade-A office space such as that at Sir John Rogerson's Quay. The Dublin Docklands is home to 'Silicon Docks' – named due to its high concentrations of tech companies such as Twitter and LinkedIn, as well as the International Financial Services Centre (IFSC) that currently employs 36,000 people in over 500 companies. Other office locations in Dublin include the suburbs of Ballsbridge D4, and further afield to Clonshaugh, Sandyford, Citywest and Blackrock, to name a few.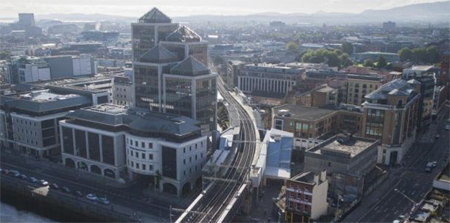 If you are looking to find an office to rent for your new or existing business, within the EU and with attractive business incentives, then an office address, physical or virtual, in Dublin could be the best choice.
We will be reviewing serviced offices, managed offices, executive suites, and co-working space option across the various areas of Dublin. We will also be researching virtual office and mailbox options for businesses that that don't require the physical presence but would like a mailing address in Dublin.